A Writer's Journey
Dorothee Kocks is the author of three books, the historical novel The Glass Harmonica; the multimedia ebook Such Were My Temptations, which recreates some of the true history behind the novel; and the non-fiction Dream a Little. For half her life, Dorothee took a traditional academic path. She earned a PhD in American Studies from Brown University, wrote a well-respected scholarly book, and climbed the tenure ladder at the University of Utah.
Then she picked up an accordion for the first time. Music inspired a life change that entailed traveling the world in search of old instruments, funded by various day jobs including a stint as a kitchen hand in Alaska. Dorothee's writing has been called "rich" and "evocative." Reviewers are praising The Glass Harmonica as an "unforgettable saga" that "perfectly combines the novelist's and historian's skills."
Like the characters in her book, Dorothee has led something of an itinerant life. Born in Germany, she now lives at the foot of the Wasatch Range in Salt Lake City, Utah, where she worked as an assistant professor of U.S. history at the University of Utah. She has been the recipient of numerous artists' residencies, and is the founder of Beware The Timid Life™ publishing .
An Instrument of Desire
Rosa Mira Books, New Zealand's first independent ebook publisher, snapped up Dorothee's historical novel after the publisher met Dorothee at a writers' residency in Spain. Now available in paperback, The Glass Harmonica is the story of Chjara Vallé (listen to pronunciation). A young woman exiled from her Corsican homeland, she's sold as a servant to an opium addict in Paris. Music paves the way for her to flee with Henry, her love,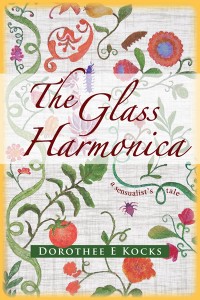 to post-revolutionary America. There the new freedoms and Puritan vigor compete for ascendancy. Chjara woos and scandalizes in equal measure with her playing of Benjamin Franklin's glass harmonica, while Henry hides his trade in erotica and forbidden books. Secrets gather and the charge between the lovers weakens as the crowds begin to call for the family's blood. Praised by reviewers as "bawdy, geographically vast, and sensual indeed," Dorothee Kocks's The Glass Harmonica explores the intimate details of early American history to craft a novel of sensuality, ecstasy and music that reads at the pace of a thriller. Finalist, Utah Book Award, 2011.
* * * * *
"Music, love, virtue, sex, desire – it all comes together in The Glass Harmonica, a knock-out historical novel. Our heroine for this tale is Chjara Vallé and we follow her from Corsica to Paris to America, as she falls in love, marries, has children, and plays the glass harmonica. I loved all the strands that were embedded in this story and found it quite reminiscent of Louis de Bernières. Well-written with a perfectly balanced sense of drama and tension, The Glass Harmonica is a very enjoyable read." —Ngaire Atmore, New Zealand Herald